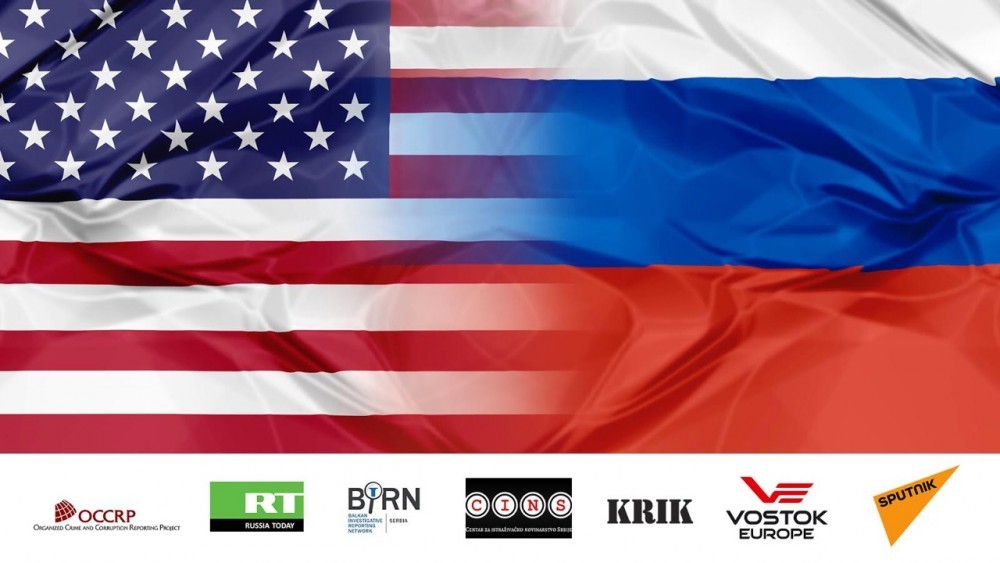 ANALYSIS
Media Network of Western Balkans - ANTIDOT
The official address to international donors whose donations were misused for the fake projects
We are writing to you as Western Balkans Media Network, formed in February 2015 by more than 30 independent journalists from the region, whose main objective is to contribute to the improvement of the quality of the journalistic profession through analytical work, education and publication of works of journalists from all parts of the Western Balkans – with no censorship and restrictions imposed by the nature of different media. From the very beginning of our work we have been under permanent attacks by individuals and groups close to the powerful criminal circles, tycoons who incurred profits during the war in Balkans and numerous paramedia centers mostly because of the sensitive issues we are dealing with, our independence from various influences and the high professional standards we rely on in our work.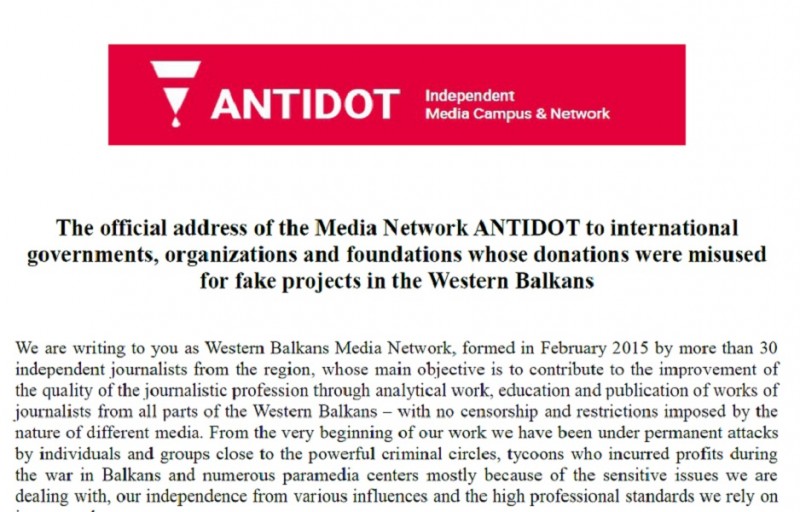 Despite these obstructions and due to pure enthusiasm of our members, ANTIDOT achieved significant results in the public sphere, together with the fact that not one single argument or information that we published was ever proven inaccurate. Still, our contributors and journalists are constantly being exposed to a variety of public attacks, only because they are dealing with issues that nobody in Serbia is ready to tackle. Although these outbreaks are coming from different sides, it is particularly worrying and detrimental for entire media landscape in Serbia that the majority of these attacks come from various para-media outlets who call themselves "independent" and who are being funded, with your best intentions, through your programs for improvement of the overall situation in the media in Western Balkans.

First and foremost, we would like to take this opportunity to emphasize the undisputed importance and our deep appreciation to your devoted and multi-beneficial engagement in supporting and promoting the freedom of press and investigative journalism in the Western Balkans. At the same time, we consider it our moral and professional obligation, to provide you with an important insight on the disastrous fact that rather than on the promotion of research projects, significant part of your donations is being spent on financing active political activity of these organizations and organized campaigns against media and individuals who are brave enough to write about topics that others deliberately avoid- where ANTIDOT plays an vital role. This creates a hazardous situation in which media are targeting each other in an extremely inappropriate way, and this is becoming a new harmful trend that threatens to demolish the very foundation of media freedoms and standards of professionalism in the Western Balkans.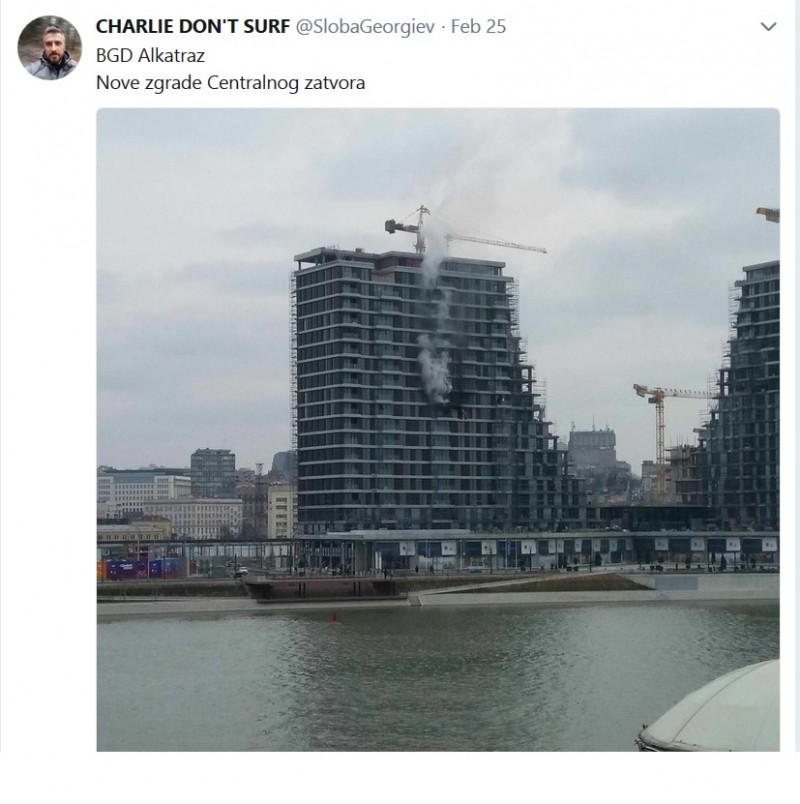 This claim can be documented by numerous examples. To begin with, in response to the establishment of ANTIDOT Network, a paramedia platform called KRIK was established, and its first "journalistic" task was to attack ANTIDOT. This same activity was soon to be picked up by BIRN. The attacks culminated in late 2017, when two completely groundless lawsuits were launched against our network by Stevan Dojčinović, the Editor in Chief of KRIK and Drew Sullivan from OCCRP Sarajevo, and only because of the discoveries published in our fact-based Dossier which indicated the presence of paramedia structures in the Western Balkans who abuse media freedoms by actively pursuing political slander campaigns against different individuals and organizations, hiding behind the names of powerful donors from the EU or the US. (LINK)
This Dossier was only the first part of an extensive research made by ANTIDOT, with its second part to be published soon, and it will deal with paramedia structures that were created and funded by the influential centers closely associated with the government of the Russian Federation.
In addition, since the establishment of our network, individuals working in KRIK and BIRN along with their associates, do not seem to miss one single opportunity to spread this campaign against ANTIDOT and its members, on social platforms Twitter and Facebook. These attacks should be added to the constant attempts to undermine and deride ANTIDOTs extensive dossiers which are a result of usually months-long, sometimes even a year-long investigation work.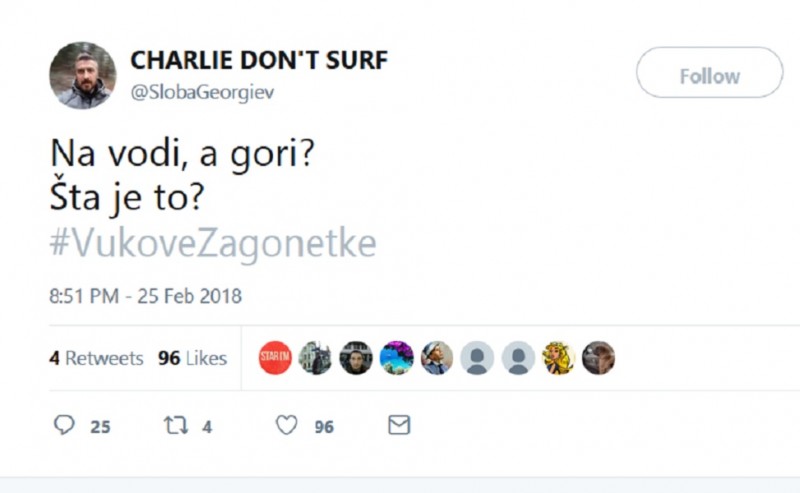 When we tried to get an answer through written and telephone contacts with the individuals working in KRIK and BIRN- why is ANTIDOT targeted by their networks, we came to the unquestionable confirmation of our findings that we published in the Dossier on the paramedia structures.
In addition to the unprofessional approach to investigative journalism and the campaign against ANTIDOT and its members, Editors in Chief of KRIK and BIRN, Stevan  Dojčinović and Slobodan Georgiev also falsely present themselves as independent and objective journalists, while in reality, they actively participate in the election campaigns, providing support to the political candidates they favor. Although their political attitude and commitment to a certain political option is by all means legitimate, it is not in the spirit of independence and professional standards of journalistic profession that their political views reflect the results of their research projects in any way. This political agitation sometimes goes as far as the political abuse of the tragic helicopter accident in 2015 in which 7 people lost their lives, or the latest fire in the Belgrade Waterfront tower in which a few people were hurt.
In the context of complete polarization of the media scene in Serbia, ANTIDOT's position as a media network that does not belong to any of the existing political-media blocks, is the one of constant exposure to attacks from all sides. This is why we turn to you, as organizations and institutions devoted to the preservation and promotion of media freedoms in Serbia and the region, to take your attention to the harms that we have pointed out, since direct funding of certain organizations in our countries is in fact inadvertently helping attacks on other media, including our media network.
How all that we argued here looks in everyday practice is best evidenced by the following example:
A year ago Media Network ANTIDOT published an extensive Dossier on the political abuses and malpractices of the former Minister of Foreign Affairs of Serbia Vuk Jeremic, after which we also filed criminal charges against him to the prosecutor.
Meanwhile, this former minister reentered the political arena in the attempt to protect himself from legal responsibility for the unlawful actions he performed in the past. With the same motive, Mr. Jeremić entered an electoral coalition for the local elections in Belgrade in progress, a coalition wholeheartedly supported by organizations such as BIRN and KRIK.
In order to push aside the findings of our extensive research, BIRN used the same information that we published, knowingly distorted them and presented them differently, trying not only to justify the former minister and clear his name, but went so far to use our Dossier as a tool for political attack on the current government.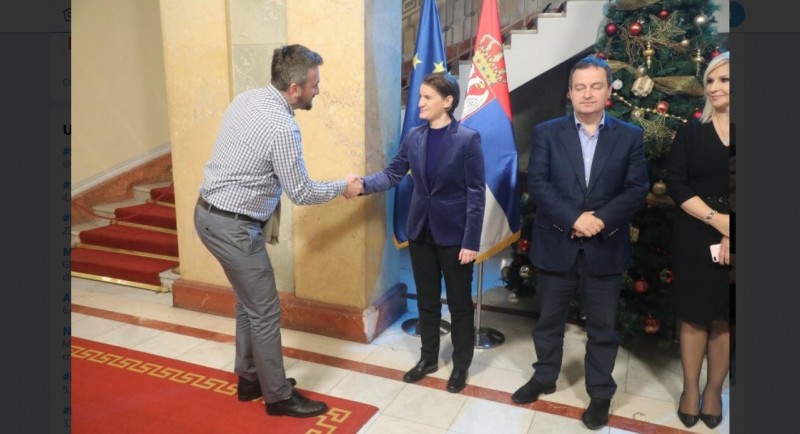 If one compares the effectiveness of two different methodological approaches in publishing the aforementioned database, one can be sure of the differences in quality between the professional application of the methodology of investigative journalism that was done by our journalists, and a simplified version of it done by BIRN, which sole aim was to directly help one political option participating in the current elections in Belgrade.
BIRN's model of "investigative journalism": Databases for concealing information of public interest
The work of a large number of media in the Western Balkans who pretentiously call themselves 'investigative', has for a long time now been reduced to a mere simulation of serious and responsible work, only to blind-side the foreign donors and justify sums that have been granted to them. A widespread lack of professionalism and unqualified application of methodology, often leads to the situation in which the so-called research is presented in the form of a pile of meaningless data, whereas the actually essential and key information of public importance are cleverly hidden. The best proof of this is the recent case in which Editor in Chief of Balkan Investigative Reporting Network (BIRN), Slobodan Georgiev urged the President of Serbia to publish how much money has been spent so far on this trips abroad. As a positive example of transparency in this regard, he gave a database "Vuk Jeremic" that BIRN published in 2014.
Although at first glance Georgiev's requirement might seem reasonable and legitimate, somewhat deeper analysis of his invitation and provision of "Vuk Jeremic" database as a positive example, reveals the true manipulative intention and a method that this quasi-investigative network uses. 
Due to the fact that ANTIDOT published an extensive database on Vuk Jeremic a year ago, together with the detailed costs of his travels while he was Minister of Foreign Affairs of Serbia, (a topic which was covered by BIRN two and a half years earlier in a raw and unexplored form), it is very easy to see fundamental differences in approaches, methodologies and treatments of this theme.  BIRN, as a part of the project funded with tens of thousands of euros, received a full listing from the Secretariat of the Government of Serbia, of Vuk Jeremic costs of travel, hotel accommodation and daily allowance from the time when he was a Minister. BIRN published the complete database in its raw form on website javno.rs, without any prior qualitative processing, research and data comparisons or highlights of key indicators of suspicious amounts of the unduly spent money. There were, however, certain technical advantages in terms of the database search criteria- destination, year, hotel, transportation company, amounts spent on transport or wages etc. yet it turned out that this material presented in such a raw form, without any accompanying qualitative research, was simply a pile of data that caught nobody's attention, until ANTIDOT came into possession of these same documents through different channels, and systematically investigated and processed them.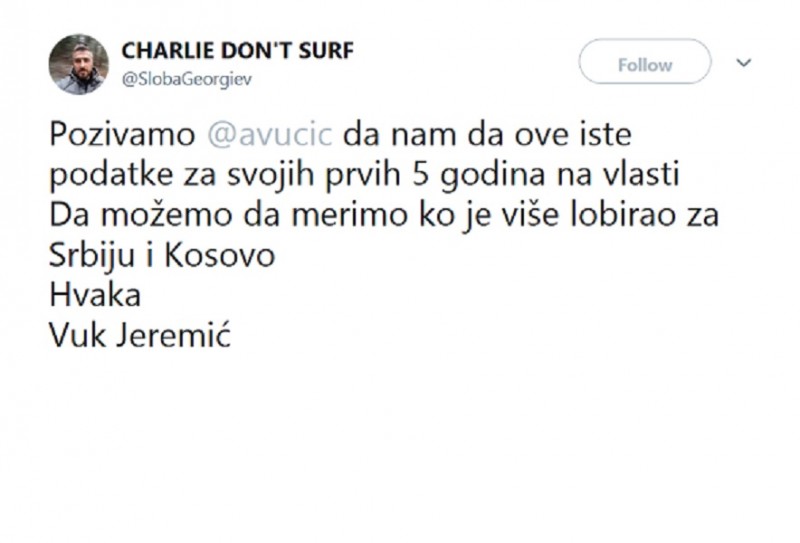 Namely, a very small percentage of readers could discover from BIRN's data-overfilled base information that Jeremić's flight to Ethiopia cost the citizens of Serbia a mind-blowing 70,000 euros or 220 average Serbian salaries. Also, a rare visitor of BIRN's base would be able to see that in addition to this, there were dozens of flights whose amounts exceeded 10.000 euros, such as the one for the Netherlands in 2009 which cost the staggering 29,000 euros, or one for Latvia which amounted to a whopping 55,000 euros. From BIRN's base, no one has managed to find out in years, that the minister spent a total of 3.6 million euros on his travels, where only the hotel accommodation amounted to 220,000 euros while per-diems came to 55,000 euros- through which he doubled his ministerial salary. The reader of BIRN's database would also not be able to see the pattern of Jeremic's travels, that were almost as a rule, two or more times more expensive than those of, for example, Chancellor Angela Merkel. From data presented in this way, the public was not able to compare and contrast the case of Jeremic with, for instance, the case Croatian central bank Governor Boris Vujcic spent nearly 300,000 euros in 5 years' time (or 12 times less than the amount for the same period spent by Vuk Jeremic) but which, unlike in Serbia, raised a storm in the Croatian public. It seems that the way BIRN "processed" and presented its database, aimed more to present minister Jeremic as "completely transparent", than to inform the public on the amount of harmful activities done by the minister in 5 years' time.

Completely ignoring, or perhaps consciously playing to the effects of the "media blizzard" in which the key information of public importance are concealed in a pool of meaningless data, BIRN showed that the funds invested in Serbia and the region are irrationally squandered on inefficient and, in the absence of supporting research papers, totally unusable databases that derive from quasi-research projects, which as a rule, are reduced to mere satisfaction of donor's demands. In some extreme cases, the so-called investigative journalists reach even for the more or less open political propaganda, which threatens not only to endanger the very existence of journalistic profession, but the whole idea of donor's funding of investigative journalism in the region.

That BIRN's concept is not a result of ignorance or incompetence of editors and journalists of the network, but rather a consciously developed concept, is furthermore proven by Georgiev's invitation to the President of Serbia on Twitter to "disclose information about the cost of his trips" along with a cynical remark this would finally show "who fought more for Serbia and Kosovo ". Apart from neglecting the fundamental fact that the lobbying for Serbia and Kosovo cannot really be seen from the travel expenses as from the results achieved in eliminating misunderstandings and resolution of open questions, Georgiev also overlooked the fact that in this case, the information about the cost of travels are required from the President of the Republic, not the Minister of Foreign Affairs. As from the moral standpoint, this requirement is not inconsistent from the methodological point of view either, for the simple reason that the costs of the President's and Minister of Foreign Affairs travel arrangements, are by their very nature (the scope of the delegation, protocols, security costs, accommodation and even ways of covering the costs) absolutely incomparable. If Georgiev really wished to be informed about the comparable and incomparable costs, he could also read in ANTIDOT's Dossier, among other things, that Jeremic's trips per year cost more than what the entire Ministry of Foreign Affairs spent in 2014. If he really wished to dig deeper into this data and make appropriate comparative analysis, Georgiev had to seek information from the current Foreign Affairs Minister, not the President or the Prime Minister.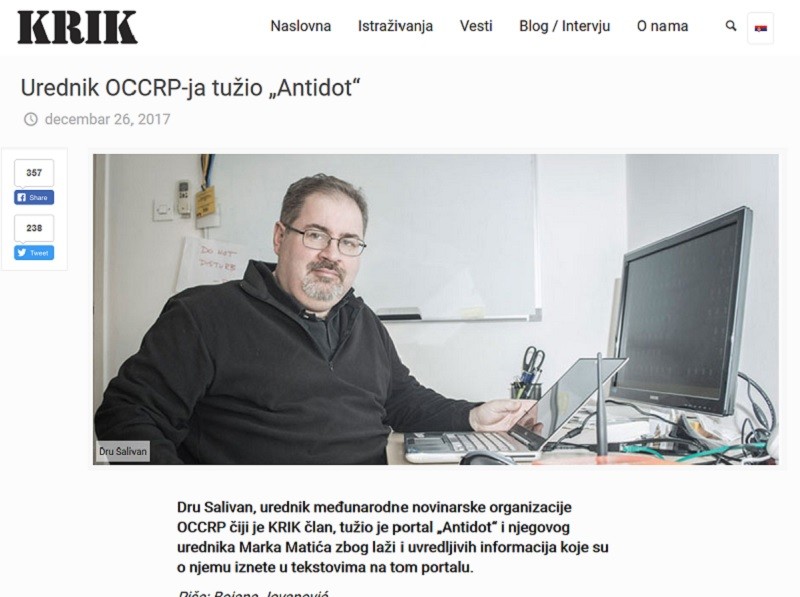 On the other hand, it is worth mentioning that these data were not given to Georgiev by Jeremic's Government, but the Secretariat of the Government led by Ivica Dacic as a Prime Minister and Aleksandar Vucic as the first vice president. Just as data on Jeremic were given upon the request for Free access to information of public importance, Georgiev could have received the same information for the period after 2012, which was during the reign of Democratic Party unthinkable- but surprisingly, BIRN was not even involved in the research of those scandals, to which the anti-Corruption Agency and its president Verica Barac, pointed out dozens of times.

From the professional point of view, even if he receives the requested information, Georgiev should know that their mere transfer into the database, without the accompanying qualitative research- does not constitute as investigative journalism, but a mere data entry job. To receive its true meaning, the data must first be properly investigated, analyzed and classified, along with a comparative analysis work, and then made into understandable research article for the readers. If BIRN journalists had applied this methodology in the case of Vuk Jeremic database, the readers wouldn't have waited for three years to understand what his malpractices and reckless spending really cost them.

Therefore the point of every research is to invest effort into making a raw database methodologically adequate by extracting relevant data and in an orderly fashion and making it understandable for the public. The manner in which BIRN published data on Jeremic has led to the situation in which formal facts are available to readers, while essentially important ones remain hidden from readers' attention. Although BIRN explained itself claiming that the databases are primarily intended for journalists and researchers, the results suggest that even those haven't achieved their purpose.

Finally, it is useful to note that the costs of creating and translating ANTIDOT's Dossier  were only a few hundred euros, while BIRN received a grant of tens of thousands of euros for theirs. On the other hand, the effects of both were inversely proportional to the funds that were spent on their creation.
Marko Matic
Editor in Chief
Western Balkans Media Network ANTIDOT